Castor Pollux Mountain Guide Zermatt
Castor and Pollux in 1 or 2 days
Castor and Pollux with a Mountain Guide Zermatt is for all who like classic mountaineering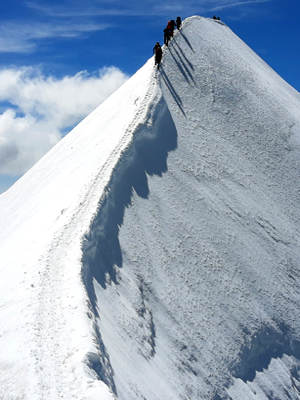 Of course you can book Castor and Pollux also as a day trip.
Castor or Pollux CHF 660.00. The fee is for one or two people.
Castor & Pollux CHF 840.00. The fee is for one or two people.
Requirements:
Safe walking and climbing with crampons, great stamina, fit for high altitude, capable to climb degree III.
Programme:
Day 1: Meeting your Mountain Guide – Klein Matterhorn – Castor – Riffugio Val d'Ayas.
Day 2: Riffugio Val d'Ayas – Pollux – Klein Matterhorn.
Services:
Mountain guide fee for 2 days, accommodation in dormitory, breakfast, dinner, without drinks.
Participants:
Maximum 2.
Fee:
With 2 climbers CHF 780.00 per person.
With 1 climber CHF 1'480.
Prices and programme are subject to change.
Compulsory Equipment:
Rucksack 30 litre – Mountaineering boots* – Climbing seat harness* – Crampons with front points, steel, adjusted* – Ice axe* – Head torch* – Touring trousers / salopettes – Waterproof / breathable jacket with hood – Fleece jacket or jumper – Gloves – Mitts – Thermal underwear – Shirt – Socks – Warm hat – Sun hat – Sunglasses with side protection – Sun screen factor >25 – Lip balm factor >15 – Flask or water bottle, about 1 Litre, no camel bag – Picnic for every touring day – Personal medication – Euros and Swiss francs – Id or passport.
Nice to have:
Helmet* – Telescope pol* – Compeed, second skin, sport tape – Foam ear plugs – Sleeping pills (not strong ones) – Spare socks – Spare shirt – Spare underwear – Pocket knife – Camera (small and light) – Tooth brush and paste – Toilet paper – Insurance card – Credit card – Sleeping bag liner (cotton or silk) – Reduction card for tickets.
Items with a * can be rented.
Please note:
Everything you bring with you, you have to curry it by yourself. Try to be as light as possible.