Hiking-Hiking Guide Zermatt
Enjoy your hiking holiday with a Mountain Guide – Hiking Guide Zermatt
The mountains of Zermatt give you an impressive and unforgettable nature experience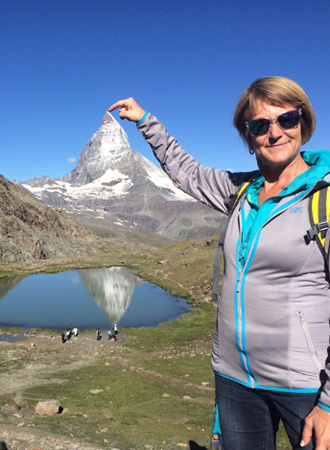 To enjoy your holiday in the mountains you don't have to throw yourself down the mountain with skis or snowboards or fight your way up the steepest mountains with ice axes and ropes. You can also discover the mountains with no danger and in a relaxing way by putting one foot in front of the other. To discover the nature with your own strength, step by step. To admire the highest mountains in the Alps, to enjoy tranquillity, to breath pure mountain air is satisfaction and pure relaxation.
If you don't know how to read a map, you don't like to study hiking guidebooks, you don't know which is the best hike for you or you are just looking for company for your hikes, I shall be pleased to help you.
I am happy to advise and to help you to create the right hike for you, to plan your goals and routes. If it is a short or long hike, a trip to an alpine hut / cabin with or without spending the night there, it would be a great pleasure for me to accompany you on your hikes.
From CHF 480.00 with a private Mountain Guide – Hiking Guide.