Matterhorn Mountain Guide Zermatt
Realize your Matterhorn Climb with a mountain Guide Zermatt
To the summit of the most beautiful mountain in the world THE MATTERHORN with a Mountain Guide Zermatt
It is also possible to have a different preparation or to climb the Matterhorn without a preparation. CHF 1'200.00.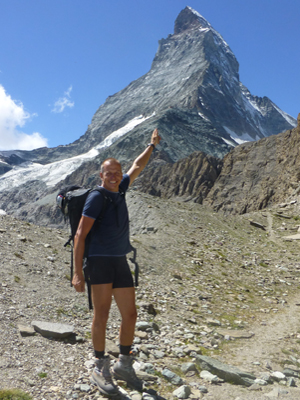 Recommended preparation / programme in Zermatt for your Matterhorn Climb:
Day 1: Arrival in Zermatt.
Day 2: Hike by yourself around Gornergrat / Rothorn.
Day 3: Rock climb at Riffelhorn.
Day 4: Pollux
Day 5: Halfe Breithorn traverse.
Day 6: Ascent by yourself to the hornli hut.
Day 7: Climb of the Matterhorn over the Hornli ridge.
Fee:
CHF 3'380.00.
Services:
Mountain Guide for Riffelhorn, Pollux, half Breithorn traverse and Matterhorn Hornli ridge, accommodation in the Hornli hut in a dormitory, breakfast, dinner, without drinks.
Requirements:
On the ascent and descent safe walking and climbing with crampons (also on rocks), great stamina (more than 400 vertical metres per hour / 8 – 9 hours), fit for high altitude, capable to climb degree III.
Remarks:
For safety reasons the guide takes only one client for the Matterhorn climb. With Riffelhorn, Pollux and half Breithorn traverse the Mountain Guide can take 2 clients, without surcharge.
If you prefer to do a different preparation or no preparation for the Matterhorn, this is also possible. Price on request.
Prices and programme are subject to change.
You need the following equipment for the Matterhorn climb:
Compulsory Equipment:
Rucksack 25 – 30 litre – Mountaineering boots* – Climbing seat harness* – Helmet* – Head troche* – Crampons 12 points steel, not aluminium, adjusted* – Mountaineering trousers – Waterproof / breathable jacket – Fleece jacket or jumper – 1 pair of gloves – Warm hat – Shirt – Sunglasses with side protection – Sun screen factor >25 – Lip balm factor >15 – Flask or water bottle, about 1 Litre, no camel bag – Food for the climb – Personal medication – Swiss francs – Sleeping bag liner (cotton or silk.
Nice to have:
Spare gloves – Pocket knife – Camera (small and light) – Toilette paper – Insurance card – Swiss rail ticket – Foam ear plugs – Tooth brush and paste.
Items with a * can be rented.
Please note:
Everything you bring with you, you have to curry it by yourself. Try to be as light as possible.