My first four thousand metre peak Mountain Guide Zermatt
My first fourthousand metre peak with a Mountain Guide Zermatt is for all who like to climb their first fourthousand metre peak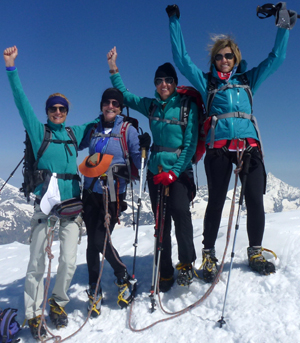 You want to climb very high, up to a four thousand metre peak. If you have a good health and stamina to walk 2 – 3 hours uphill, than you have everything you need to climb an easy four thousand metre peak.
Zermatt and Saas Fee have got the easiest four thousand metre peaks in the Alps, the Breithorn in Zermatt and Allalinhorn in Saas Fee. They are not too steep and don't require prior knowledge, when you do the climb with a Mountain Guide. Even when they are easy four thousand metre peaks the alpine danger (orientation, altitude, crevasses and weather) may not be underestimated. Price on request.
This is also a fantastic gift
You need the following equipment for My first four thousand metre peak:
Compulsory Equipment:
Rucksack 15 – 30 litre – Mountaineering boots* – Climbing seat harness* – Crampons with front points, adjusted* – Telescope pole* – Mountaineering trousers – Waterproof / breathable jacket – Fleece jacket or jumper – Gloves – Warm hat – Shirt – Sunglasses with side protection – Sun screen factor >25 – Lip balm factor >15 – Flask or water bottle, about 1 Litre, no camel bag – Food for the climb – Personal medication.
Nice to have:
Pocket knife – Thermal underwear – Spare gloves – Hat for the sun – Camera (small and light) – Toilette paper – Compeed, second skin, sport tape – Insurance card – Swiss rail ticket.
Items with a * can be rented.
Please note:
Everything you bring with you, you have to curry it by yourself. Try to be as light as possible.