Rock Climbing Zermatt Climbing Guide
Enjoy the most beautiful rock climbs with a Climbing Guide
With pleasure I accompany you to the best rock climbing areas and to show you the most beautiful climbs.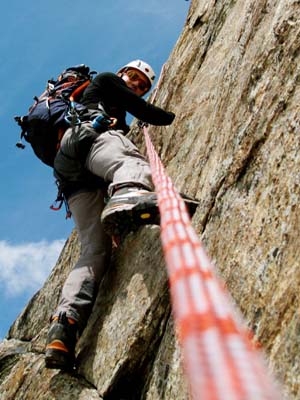 Riffelhorn, CHF 550.00
Climbing time ca. 4 hours, 3 to 6a , approach ¼ till 1 hour.
Sport climbing, CHF 550.00
Climbing time 3 – 4 hours, very easy to very difficult, approach ¼ till 1 hour.
NEU
Riffelhorn or Sport climbing with a Tandem Paragliding Flight to Zermatt. CHF 670.00.
We climb on the Riffelhorn and fly back with a paraglider from Riffelberg to Zermatt. You safe your return ticket (about CHF 45.–) to Zermatt with the Gornergrat railway. Read more.
Requirements:
Good health and fitness, no vertigo.
Services:
International recognised Mountain Guide for the climbs. All technical equipment (without helmet, harness and boots) is included. Cable cars and trains are not included. The fee is good for 1 or 2 people. Easier climbs can be done with more than 2 people. For every additional person CHF 40.00 will be charged.
Prices and programme are subject to change.
You need the following equipment for rock climbing:
Compulsory Equipment:
Rucksack 15 – 25 litre – Mountaineering boots* – Climbing seat harness* – Sunglasses – Sun screen factor >25 – Lip palm factor >15 – Fleece – Light jacket – Mountaineering trousers – Flask or water bottle, about 1 Litre – Food for the climb – Personal medication.
Nice to have:
Pocket knife – Camera (small and light) – Toilette paper – Swiss rail ticket – Helmet*.
Items with a * can be rented.
Please note:
Everything you bring with you, you have to curry it by yourself. Try to be as light as possible.