Snowshoe Walking-Hiking Guide Zermatt
Enjoy the world of snow with snowshoes with a Mountain Guide Zermatt
With snowshoes and an Hiking Guide – Mountain Guide you can experience the beauties of the winter even as a non-skier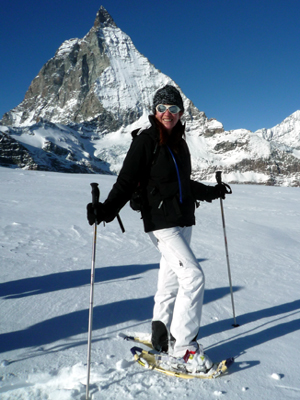 Snowshoe Walking, Snowshoe Hiking or Snowshoeing gets more and more popular. With snowshoe walking you can discover the winter landscape in Zermatt without prior knowledge and you can enjoy as well the beauty of the mountains.
Snowshoe Walking in Zermatt is an easy way to experience the mountains and it's silence.
Snowshoe walking in Zermatt is a very nice alternate activity to skiing on bad weather days.
Requirements:
Good health.
Service:
Qualified mountain guide or hiking guide, transceiver (Beeper) and harness if necessary. The snowshoes can be hired.
Fee:
From CHF 450.00 for 1 or 2 people. For every additional person CHF 40.00 will be charged.
Prices and programme are subject to change.